We went to the OC swap meet a few weeks ago and I grabbed a few bags of jalepeno's..
My grandpa likes to tease me into biting into one whenever we have them around. I only fell for it once. He convinced me it "wasn't that hot"... He thinks he is SOOO funny!
Now he tries to trick my boyfriend.
As you know I have a deep connection with bacon and anytime I can put it in a recipe I will!
These jalepeno poppers were easy appetizers and a lot of fun making.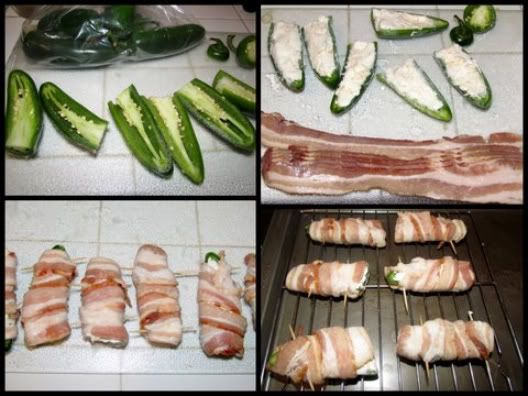 Whoever tells you to use half a slice of bacon is
NOT
your friend.
I repeat,
NOT
your friend.
Bacon Wrapped Jalepeno Poppers
Ingerdients:
25 fresh jalepenos
14-16 ounces of cream cheese
2 cups shredded cheddar cheese
2 (16 ounce packages) of bacon
Cut stems of the peppers and cut them long way. Remove seeds from peppers
fill each pepper with cream cheese and sprinkle cheddar cheese on top
Wrap a piece of bacon around each pepper half.
Place on baking sheet in a 450 degree oven for 10 15 minutes or until bacon is cooked
Remove and serve when cooled.
Enjoy!